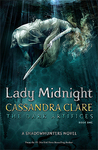 Lady Midnight by Cassandra Clare
My rating: 5 of 5 stars
Borrowed from my local library. No spoilers.
Just when I thought I was out you found a way to pull me back in!
Cassandra Clare has added to her Shadowhunter"s verse with the Dark Artifices series and I could not be more pleased! Lady Midnight is dark, funny, heartwarming, and absolutely magical.
Emma and the entire Blackthorn family make this book, honestly I couldn't have asked for such an amazing family that loved each other through everything. Julian's love for his family is beautiful, yet heartbreaking when you realize how old he actually is.
Julian and Emma are my new OTP, I never thought she could out do Jace and Clary and somehow she did. You can tell these two are meant to be from page one! Honestly I'm bit scared for Lord of Shadows and what she may do to my babies.
Reading about the mythos in the Shadowhunter's world felt like seeing an old friend after all this time. I always enjoyed this world I just lost interest in the characters. I love this book and I'm so glad I got back into the world of Shadowhunters.